Adding a Multi-language Pack To Magento
Alright so you have got your web store created and are soon expecting international web traffic. Well, as exciting as it may seem, it might just simply be viewed and operated by the people who can comprehend the language of the site. If you are expecting hits from different demographic regions then it is a wise idea to add at least 1 or 2 additional language packs to your site. Here, in this article we will understand exactly how you can add another language to your web store created on Magento platform. Let's have a look.
Step 1
Change the default store view name to English. You can do this by going to System Manage Stores section. You simply need to change the store name to English and save it.


Step 2

You can now create a second store view which would be in your preferred language say Spanish. For this you need to click on Create Store and enter store information such as Store (Main website store), Name (Spanish), Code (Spanish), Status (Enabled), Sort Order (1). Once you save it you would see the language selector at the front of your main page.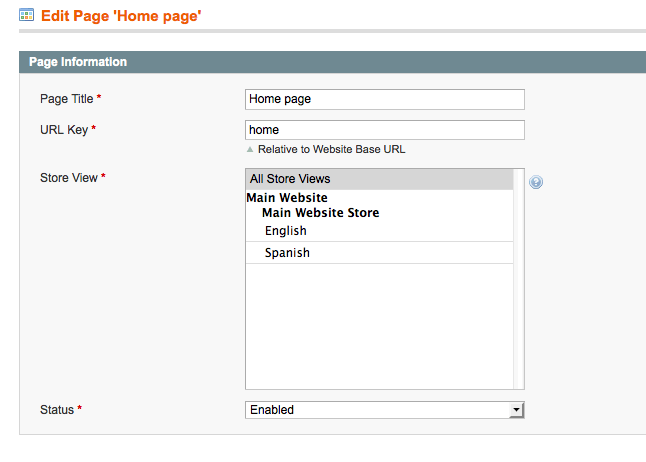 Step 3
Once the language switching option is enabled, you now need to assign homepage to All Store views in order to avoid the 404 error. For this you can go to Catalog  Manage Products to select products and update their attributes.
Step 4
Regardless of what store view you are in, you would still get English language for your Spanish store. This happens because at this moment Magento is not provided with any translations for your Spanish store. You can merely do this by downloading the Spanish pack from Magento's Translations page.  Once downloaded you can save the folder and upload it to your server in the app  locale folder.

Step 5
Next you need to tell Magento about the Spanish language page. So you can go to System Config General Tab locale options. Under the Current Configuration Scope, you can now select Spanish language.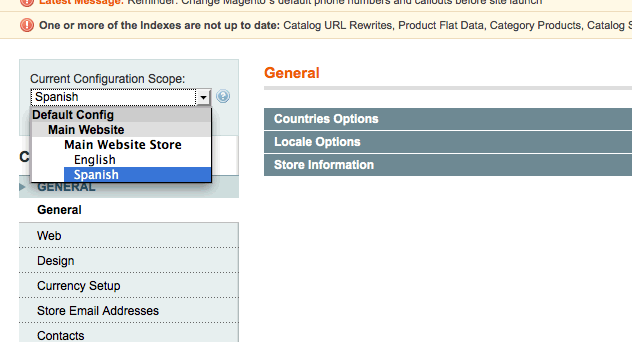 Step 6
Now the view of your store is Spanish. However, if you wish to have Spanish in a product for example, then you need to go to Catalog  Manage Products. Here you can pick the products and select Spanish store from top and add Spanish translation to the product descriptions.
So here we just learned an amazing way to create a multi-language store to serve the visitors in their own language.
Image Source : woolleydesign.net